Are your school mornings filled with chaotic scrambles, frazzled nerves, and frantic searches? Say "good-bye" to stressful mornings with these four simple routines!
**Links in this post may be affiliate links. This means that if you click that link and purchase the product, I may receive a small compensation. I am, however, committed to honestly assessing the products mentioned. Please read my disclosure policy for more details. **
Getting kids ready for school (or anything!) can be stressful. "Let's go!" "Where are your shoes??" "We're going to be late!!"
Do any of those sound familiar?
Last year, when Aidan was in half-day preschool, those were already familiar refrains in our house. And I hated how frazzled and grumpy our school mornings felt.
When he started kindergarten this year, I knew I needed to get some better systems in place to prepare for all-day-every-day school.
I wanted to send him off — both physically and spiritually — with healthy, filling breakfasts and a short devotion.
I wanted to prepare healthy lunches for him.
And I wanted calmer, smoother school mornings. I wanted to feel organized and prepared, not frantic and forgetful.
I spent some time thinking, brainstorming, and planning what we were going to need and came up with a new school prep routine.
This school routine is actually comprised of four different prep routines — weekend prep, afternoon prep, evening prep, and morning prep.
And while granted, we're still in the infancy stage of our school prep years, so far this system has worked beautifully for us.
Take a look at what I do (and see what I've been making for breakfasts and lunches!), then PLEASE feel free to offer some suggestions from your own school routines in the comments at the end. I would love to hear from other, more seasoned, mommas!
MY STRESS-FREE SCHOOL MORNINGS ROUTINES
---
WEEKEND PREP
So much of what I do as a wife, mom, and homemaker seems to revolve around food. Do you find that to be true at your house, too, or is it just us??
The need for food is constant (obviously), and since I try to prepare mostly real food, that takes a fair amount of planning and prepping.
So, at some point on the weekend (usually during my weekly planning session), I make a list of breakfast and lunch ideas for the whole week. I don't assign them to a specific day, necessarily, but I do make sure I have a week's worth of possibilities.
After I have a list of ideas, I will spend some time prepping — whipping up some make-ahead breakfasts, preparing sandwiches, packing up lunch items, etc.
Because I'm a stay-at-home mom and I'm home during the day most days, whatever I don't get done on the weekend, I schedule for other times throughout the week. Lately, I have been designating Monday mornings as my food prep day, and that has been working well!
Here are some of the foods I've been prepping for breakfasts and lunches:
Breakfasts
Baked oatmeal

Regular oatmeal (I make a big batch and warm up individual servings in the mornings)

Overnight oats
Here are 9 Easy & Healthy Oatmeal Recipes You Need to Make!
Pancakes/Waffles

Baked pancakes

Muffins

Hard-Boiled Eggs (if you're not doing it in the Instant Pot, you're doing it wrong. *wink*)

Fruit
Helpful Post: 12 (Real Food) Make-Ahead Breakfasts For More Relaxed Mornings
Lunches
(Aidan's school is "nut-aware," so I can't do anything peanut or nut-related. Which put a crimp in my plans, but I TOTALLY understand. If it were my child who was allergic, I would want all the parents to be conscious of it, too.)
Hard-boiled eggs

Whole wheat muffins

Whole wheat crackers with cheese

Deli meat sandwiches

Quesadillas

Chicken salad

Tortilla Pinwheels
AFTERNOON PREP
I have the privilege and blessing of being home when Aidan gets home from school, and I treasure our after-school routine. I use it to both connect with him and hear about his day and take care of business for the next day.
The first thing I do when he comes home is get him settled at the kitchen counter with a snack. Then, I go through his bags as he tells me about his day.
First, I empty his lunch bag, putting his containers in the dishwasher and his ice pack in the freezer for the next day.
Next, I go through his schoolwork that comes home. He usually tells me all about each one — what he's learning, how he did on it, etc. I love that he shares so much with me at this point, so I do all I can to encourage that.
I then look through his binder that has important papers, notices, and homework. I sort through them right away, putting anything that needs to be completed in a special spot on the counter to deal with after supper.
After a short break, Aidan does his homework.
And his backpack goes back by the door, ready for the morning.
EVENING PREP
The key to calmer, smoother, happier school mornings is getting as much ready as possible the night before.
Therefore, as part of my evening routine, I…
Make the next day's lunch — n

on-perishable items go into the lunch bag and r

efrigerated parts go in a special "lunch" area of the fridge

Pick out his clothes (or, rather, supervise while he picks them out)
Find shoes — This isn't usually an issue because I have a bin by the door where the kids' shoes go when they take them off, and Aidan is very good about that habit.
For myself…
**For more about creating an effective evening routine, I HIGHLY recommend Crystal Paine's 14-day Make Over Your Evenings course!
MORNING PREP
Because I've done as much as I can in the evenings and on the weekends, there's not much left to do in the morning!
But here is our morning school routine:
Eat breakfast — the boys eat while I read a Bible story/devotion to them (this is what we're currently reading)

Get dressed

Brush teeth

Pack refrigerated/frozen parts of his lunch

Go potty (I have a kindergartener, remember 😉 )

Put shoes on & grab the bags!
** By the way, my morning routine starts about an hour earlier with a cup of coffee and my quiet time. (I have tips for keeping a consistent quiet time with small kids in this post!)
** And if you would like to learn more about how to have smoother, healthier, and more productive mornings, I recommend Crystal's Make Over Your Mornings course.
Here's a FREE 5-day sample challenge!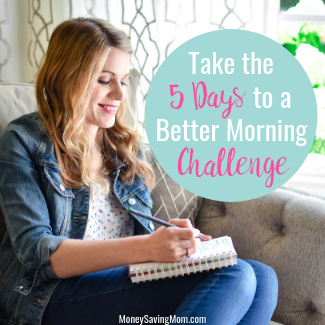 That's our prep routine for stress-free school mornings that has been working well for us.
Is there anything you might want to incorporate into your own routine? What do you do differently that works well for you? Let's help each other! (Scroll down to leave your thoughts.)
RECOMMENDED FOR YOU:

(Visited 257 times, 1 visits today)