I first learned I had a diastasis recti several months after my first child was born. I had worked hard to lose the baby weight through diet and exercise, and I was back in my pre-pregnancy clothes. But I could tell something wasn't quite right in my abdominal area. It didn't feel as firm or strong as it was before I got pregnant.
**Links in this post may be affiliate links. This means that if you click that link and purchase the product, I may receive a small compensation. I am, however, committed to honestly assessing the products mentioned. Please read my disclosure policy for more details. **
One day, as I was sitting up in bed, I noticed that my stomach made a strange peak in the middle.
Huh. That was weird. It never used to do that!
Shortly after that, while lying on my back on the floor, I put a hand on my belly and discovered I could fit several fingers in a gap running down the length of my abs.
I was officially grossed out.
So I did what any person does when they encounter a freaky body issue – I Googled it!
My Diastasis Recti
From Google, I learned that I had a diastasis recti, or abdominal separation – a common prenatal and postnatal problem. This separation cannot be completely repaired, but it can be narrowed. It can also be exacerbated by certain exercises (like crunches and certain pilates moves), and it worsens with each subsequent pregnancy. Which I was about to find out.
After I identified the problem, I looked into how to go about fixing it. I found an abundance of moves and exercises online promising to correct a diastasis recti. I've never been good at following an exercise regime that consists of lists of pictures and descriptions, so I glossed over most of the sites I found.
Then a friend told me about the MUTU System. This system is a comprehensive program complete with videos, instructions, and eating plans, and I was intrigued. The cost of the entire program is about a hundred dollars, so I kept putting off taking the plunge. After all, I was able to "get my body back" after Aidan. I could do it again if I worked out hard enough, right?
Pregnancy #2
I suspected it was not going to be that simple when I started showing MUCH earlier in my second pregnancy. By 8 weeks, people were already starting to suspect #2 might be in the works. I exercised harder and ate even healthier than I had in my first pregnancy, but my baby bump was huge. I also had lower back and hip issues. Part of this was due to my baby's size (9 1/2 lbs at birth!), but I now think it had a lot to do with a weak core that I never strengthened before I got pregnant again.
After Andrew was born, I knew it would take some time and work to get back in shape, but I was ready! I was much more active postpartum than I was the first time (partly due to the fact that this time I had a toddler to wrangle!), I ate better, and I started lightly exercising as soon as possible.
Weeks and months rolled by, and although the pounds were coming off and my pants were fitting again, I couldn't seem to lose the tummy. At four months postpartum – about the time by which I looked "normal" again after my first baby – I still looked about as pregnant in the belly as I did right after delivery. I could see that working out wasn't going to cut it this time, and I decided it was time to look into the MUTU System.
(Think you might have a diastasis recti? Take this test to find out!)
More Than Vanity
Now, before you start thinking that I'm just really vain and shallow, let me assure you it's about more than just looks.
Here are a few other reasons I wanted to fix the problem:
A diastasis only gets worse with each pregnancy. I don't plan on this being my last pregnancy.
A large separation means that all that's protecting your internal organs is a layer of connective tissue, which can also weaken if not corrected. This can lead to hernias and other complications.
A weakened core causes a lot of lower back and hip pain. It also puts more strain on the shoulder and neck muscles.
A diastasis increases the risk of complications during labor and delivery, and in some cases can make a vaginal delivery impossible.
A weak core leads to general weakness. The core provides stability for almost all the body's movements, so if your core is weak, your arms, legs, back, shoulders, etc. will also be weak. I have two little kids to carry and wrangle. I'm tired of feeling weak all the time.
But I'll be honest enough to say that some of the incentive is, in fact, about having a body I like again. I want to feel confident again. I want to fit into my favorite tops again. I want the ease of being able to select anything in my closet to wear in the morning again. As long as you don't become obsessive about it, I don't think there's anything wrong with wanting to look your best!
MUTU System
That brings us to my current journey with MUTU System. Before I dive into the program, I want to be completely honest with you. I contacted the company and received free access to the 12-week program in exchange for a review on my blog.
However, I am committed to honestly assessing my experience, and I am constantly trying to put myself in the shoes of those who will be paying customers. I don't want to jeopardize the integrity of The Merry Momma by giving false claims or overselling.
I am now halfway through the program, and I wanted to update you all on my thoughts so far. Be sure to read my final review at the end of the program, because I'm sure some of my answers will change by then!
What is MUTU System?
**Update! MUTU System has revamped their program since I participated, so a few things may have changed. My review is based on the version that I completed.
MUTU System is a comprehensive diet and exercise program designed to strengthen your core, improve pelvic floor function, and help you achieve a strong, fit body. The goal is to help moms lose the "mummy tummy," regardless of how long ago they had their babies. The main objective is to help correct a diastasis recti, but it also targets pelvic floor function, overall core health, and weight loss through healthy food choices.
The 12-Week Program that I have been doing includes:
Highly instructive coaching videos

Instructional demos

Real-time workout and exercise videos

Downloadable PDFs

Support & Community
To learn more about the program (and see what has changed) visit MUTU System Homepage.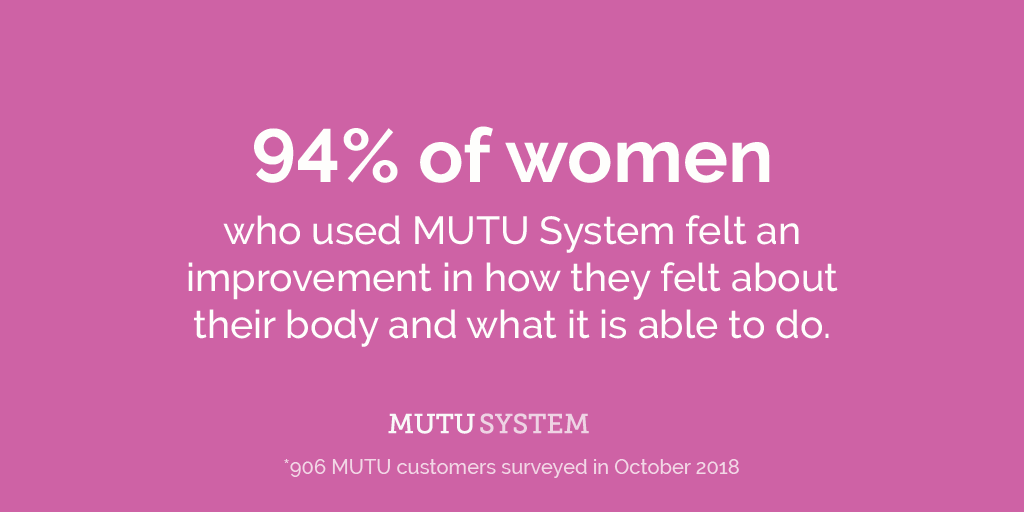 Benefits of MUTU System
I have not completed the program, so I cannot attest to all the benefits … yet … but here are a few that it claims to offer:
Stronger core

Improved pelvic floor function (No more leaks! More enjoyment during intimate activities!)

Strong, fit body

Weight loss

A body that looks, feels, and functions better

Better body alignment

Education about body processes and health

A new way to think about food

Greater body confidence!
Pros
Here are a few of the pros I have found so far in the first half of the program:
It is very easy to fit into my schedule! The exercises are less than 10 minutes, and the workouts are about 23 minutes long. Even with two kids, a job, and a blog, I can fit that in!
It is a comprehensive & holistic program.  This might be my favorite part of the program, and what really sets it apart from simply googling "diastasis exercises." I have learned so much about posture, alignment, food, muscles, and how the various parts of my body work together. It has changed the way I look at food and my overall health.
The format is convenient. I wasn't sure about the online program at first, but it has worked well for me. It's nice to be able to access the program from anywhere, and I download all the videos and PDFs so I can watch/read them later without worrying about Internet connection. 
The exercises and workouts are guided. As I said, I do much better with a video or live class than I do with a list of pictures or instructions, so this was a big selling point for me.
The program includes a printable calendar. I love visuals and anything that helps me track my progress! The calendar is really helpful for keeping me on track and on schedule. I also love the 20-page food program guide. It has started me on the path to healthier, cleaner living.
You don't need a lot of equipment. So far, I've been able to make do with equipment I already had on hand.
Included in the program is access to a private forum for community and support.
I haven't used it yet, but I think it is a great added bonus!
Cons
It's not a get-skinny-quick program, and it does require a commitment of time and energy. I don't actually consider these "cons", as I don't believe in programs that promise fast results with little to no effort. But I want to be honest with you that my results have not come overnight, and they haven't come without work and lifestyle changes.
You will need some equipment. I know, I just said in the pro section that I didn't have to get any fancy equipment, but if you're starting out with nothing, you will need to get a few things. As far as I can tell, a couple hand weights, a resistance band, and a medicine ball should cover everything.
It's not cheap. This, to me, is the only real drawback to the program. The complete 12-week program is $99 and is the main reason I put it off for so long. But if it's effective, it's worth every penny!
How Effective Is It?
I am only halfway through the program, so I cannot definitively say whether it works or not. We will see in 6 more weeks! For now, I will say that I definitely feel better and feel stronger, and I'm starting to see a little bit of tummy shrinkage. 🙂
Is It Worth the Money?
I'm also holding off on answering this question until the end of the program. Read my final review in 6 weeks to find out what I have to say then!
Would I Recommend It?
Again, I can't say for sure until I finish the program, but my initial thoughts are that yes, I would recommend it. The "Science Classes" alone have been invaluable to me, but because it's a big investment, I want to wait to see what my results are before I give my seal of approval to everyone.
---
Thank you so much for sticking with me! I'm excited about the potential this system has to offer, and I can't wait to share my final review with you in a couple months!
If you'd like to learn more about MUTU System, click on the link below!
Find out more about MUTU System
You Might Also Like…
(Visited 1,696 times, 1 visits today)